---
Influence, Share & Refer Ambassador rBux Program
Influence, Share & Refer Ambassador rBux Program
There is earn while learn program at inaaz.biz, you will get benefits from this cashback program  :
A. Influence, Share & Refer Ambassador rBux Program
Become our Reference Ambassador in rBux Program and Earn Discounts or Cashback Rewards in USD that one can encash at our inaaz.biz site while buying any product or one can receive it as paycheck via Paypal every week when you have sold any item or product to any client or person or buyer or purchaser.
One gets refer cashback reward of 12 % on each product's confirmed purchases or transaction value excluding tax and shipping charges.
 Join rBux Link - https://rbux.com/partnerprofile?eparam=6b644f3079636245716e4632646c52716357566e
This program is open for India and all countries global citizens now onwards. All youth, kids, unemployed, employed, one who want extra income and senior citizens can now earn by influencing, refering, sharing us in social sites , resulting to a good income every week . It is just 15 to 30 minutes sharing of all our popular products to social sites, whatsup, or any means of digital marketing sharing . You will be given a unique code and use that code when sharing the products to any where by any means of social sharing.
So, we invite you to join us become our Influencer Ambassador in each city, town, villages, regions and country.
Inaaz.biz has opened the door of creating income to all global citizen across the world. Enjoy this opportunity and be our ambassadors , earn while you learn e-commerce digital marketing with us for online sales.
We have opened 2 millions reference Ambassadors  induction across the world, requires zero investment , earn in thousands of USD by your social sharing.
Hurry Up , Start Today , Zero investment is needed, Opportunity is knocking your door , this scheme will be closed once 2 millions enrollment is over across the world.  
All referred purchaser will get 8 % discount or cashback on all product variants. 
Here is how you can refer products and earn rBux:
Find products to refer. Here are some of the ways to find products:

Visit an rBux Enabled online store, find a product, and click on the rBux refer button.
Browse products in the

 

rBux Market. Click the refer button of a product you like.
Suggest products that are not on the platform. Then refer this product as a suggestion. Note, you can't earn rBux for suggested products but you can still tell your friends about them.

To refer a selected product. Follow these steps from the 'Create Referral' screen.

First describe what you like about the product. You can even add pictures, videos, and Youtube links.
Save your referral.
Share your referral via email, social media etc.

When your friends purchase you'll earn rBux Rewards. You'll even earn if they forward your referrals to others!
Once you're earned rBux you can redeem them for product discounts or withdraw them for cash. Note, one rBux is equivalent to one US dollar.
To redeem for products, go to an rBux enabled website, add products to your shopping cart, then view the cart. On the Cart view screen, you will be given the option to redeem your rBux. Select the amount to redeem then your total price will be discounted by the monetary value of your rBux. Please note that not all rBux Partner sites have the redeem feature enabled.
To Withdraw for cash. Go to rBux.com, sign in, go to "My Profile" (top-right dropdown), select "Withdraw rBux". You will receive the funds via your chosen financial method in your Account Settings.
 How to refer a product :-
Now, let's tell your customers they can refer your products and earn money.
Let's start referring! Below are some quick points on how to share products to your friends, family and colleagues. It's simple and it's easy!
 1. Find a product you love in our store.
 2.  Click on the rBux refer button, located on our product pages. This will take you to the rBux Referral Share Page.
 3.  To refer the product you selected, make sure to follow the steps outlined on the 'Create Referral' screen on the rBux page.
First describe what you like about the product. You can add pictures, videos, and YouTube links showing you with your product or select a website image.
Save your referral.
Now, share this referral to friends via Email, Facebook, Twitter, or you other favourite social media channel.
 4. When your friends purchase your recommendation, you will earn rBux into your account that you can convert to cash. You also earn if your referral is forwarded to others! The rBux referral chain can refer up to 11 people per product!
Once you've earned rBux, you may redeem them for product discounts or withdraw them for cash.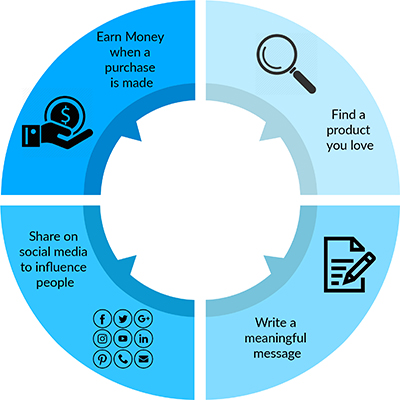 Learn About Product Sharing with rBux
Let your customers know they can share your products and be rewarded! Below we have created a paragraph you may copy and insert your own custom information.
Copy the paragraphy below.
Change <INSERT COMPANY NAME> to your company name.
Where it says <CLICK HERE>, embed a link to your most popular product.
You may choose to insert the "How to Refer" image and embed a link to your most popular product within the image.
Share Your Love for <BRAND> And Earn Rewards!
You have been a valued customer! Now we want to give back to you, our loyal customers. What's better than finding products you love? Sharing products you love! With rBux, you can join a community of <INSERT COMPANY NAME> fans and by simply referring your favourites to your social network, you'll get paid for every referral that results in a sale!
rBux provides you with the freedom to spread your love for our brand via any social media platform, and it encourages you to use your creative means to influence others. You are a brand as much as we are! rBux empowers you to represent <INSERT BRAND NAME> and grow your personal brand as your successful referrals increase!
To get started, simply click on the referral button on any product page and follow the instructions. <CLICK HERE> and we'll take you to one of our favourite products.
Are you interested in finding out more about rBux and the referral technology, then visit their website at https://rBux.com.
rBux Image Ideas
Now let's add some visual imagery on your main pages to entice your customers to find out more about how to share your products! Below are some tips we've found that help to create a better conversion.
Read below to learn how including images can help with conversions.
Create some compelling text that will prompt the customer to click on the image you create. Below are some examples. Having an image of the referral button will help your customers know what to look for when referring your products.
Prompts the customer to click on it.
'Start referring our products and earn money'
Click on 'Refer' to give it a try!

 

(This click will lead to a popular product that has the refer button on)
Click on 'Learn More' to learn all benefits that rBux can give you! (This click will lead to the

 

Learn More About rBux Page)
GET STARTED: Transferred to the rBux site where there are only 5 of the top products of that Partners' product.
 B. eKoma Cashback or Points Program - Loyalty & Referral - This program is disabled temporarily for technical issues.
There are two programs within eKoma - Loyalty Program and Referral Program 
Loyalty Program - Discontinued Temporarily
Referral Program - Discontinued Temporarily
There are several ways to generate revenue in eKoma Reward Program as appended below -
Status
Name
Attached Rewards

 

Order create

2 points for every $ spent

VIEW

 

Instagram follow
VIEW

 

Twitter follow
VIEW

 

Facebook like
VIEW

 

Account create
VIEW

 

Twitter share
VIEW

 

Facebook share
VIEW

 

Customer birthday
VIEW
You can do Twitter & Facebook Sharing of our any products or its links every day and earn 10-20 points every day. In 30 days you can generate 300-600 points by only sharing our site and products.
The point value is 1 USD per 100 points. 
The purchaser can generate 100 - unlimited points on purchase of 50 USD-unlimited cost item. A brilliant scheme for all customers.
Any registered user can share our product links and refer to another customer as reference ambassador or influencer and earn 100 points per referred customer, it is huge reward for all.  Reference Ambassador can reward 5 $ discount coupon to a new customer as reward in addition to earning 100 points for each reference broght to site as registered user.
There is a reward for every one - to a buyer, loyal customer & reference ambassador too. Rewards are only to one program either rBux for influencers or eKoma  loyality or reward at any given time , one will get only one payment not both payment in two program for same task or sales but you can join both programs at any given time by using your mail Id. 
Learn About Product Sharing with Instagram, Facebook & Twitter or any social sites.
Inaaz.biz has brought you best gift & rewards - Earn while you learn social marketing.